Giant Cheque 🏦
Personalised Giant Cheques are ideal for charity events, promotional campaigns, birthday presents and more.  They are a great way to highlight your charitable donation, make your brand stand out or make the birthday boy or girl feel special.
Upload your logo or photo and customise the wording any way you want.
Various sizes available, contact us for bespoke sizes.
See how good they look in real life –
Gallery or Video below of previous orders
Professional design / Quality Production / Friendly Service!
YouTube video: 

Giant Cheques
Birthday / 

Promotional / 

Charity
Giant Cheques
Create your own custom cheque with bespoke wording and design.  A great way to highlight a gift, donation or prize being presented.  By adding a logo or photo makes it that extra bit special.
Choose your design by filling in the form below letting us know your chosen Bank.  For specific Charity branding see Charity Cheques.
Next, let us know your wording.  We can personalise with any custom text, or we can also just leave it blank if you would prefer to write the cheque yourself.
If you wanted to include your photo or logo you can upload below.  Our team of graphic designers will edit the image and create a draft copy ready for your approval.  If you choose to add your own photo we will always email you a copy of the image and only pass the design to print production once you have signed off the design. 
There are 3 options for the print finish of your cheque:
1 – 160gsm thick paper – Cost-effective single use.  This finish is perfect for most giant cheque needs. A high quality print onto a really thick paper. 
2 – 160gms thick paper + Laminated finish – Durable, reusable.  The laminated finish make this option very versatile. If you are wanting a budget reusable giant cheque then this ticks all the boxes.
3 – Laminated onto 3mm Foamex board – High quality, reusable, rigid.  This is our extra long lasting solution, with a dry wipe finish you can use this cheque over and over with the added benefit of it being rigid, strong and premium quality.
We have a variety of sizes to choose from; From a downloadable bank cheque for you to print at home right through to a huge cheque needing 2 people to hold it.
Please take your time and see photo gallery and video above displaying plenty of previous customised orders.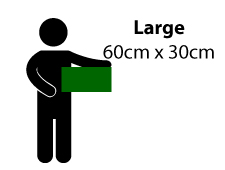 BANK LOGO
Choose from many bank cheques for your base design.  Just let us know your preferred bank.
PERSONALISE WORDING
Add text or leave blank?
We offer free personalised wording on every giant cheque.
We use bold handwriting typefaces and fonts to give a more realistic feel to our cheques.
The simple form below allows you customise every detail of the cheque.
Feel free to add or remove any text you like.
Add your Photo or Logo
If you want to take your giant cheque to the next level of visual presence then why not add your logo too?
Our team of graphic designers love to work with images, creating a truly bespoke presentation cheque.
See video above or gallery below for examples of past orders and what we can do!
Downloadable PDF
£10 = PDF – Emailed within 48hours
Standard (40cm x 20cm)
£15 = Thick paper – 160gsm
£20 = Laminated Thick paper
Dry wipe – Reusable
£25 = Rigid PVC Foamboard
Dry wipe – Reusable
Large (60cm x 30cm)
£22 = Thick paper – 160gsm
£27 = Laminated Thick paper
Dry wipe – Reusable
£35 = Rigid PVC Foamboard
Dry wipe – Reusable
X-Large (90cm x 45cm)
£27 = Thick paper – 160gsm
£35 = Laminated Thick paper
Dry wipe – Reusable
£45 = Rigid PVC Foamboard
Dry wipe – Reusable
HUGE! (150cm x 75cm)
£40 = Thick paper – 160gsm
£50 = Laminated Thick paper
Dry wipe – Reusable
£100 = Rigid PVC Foamboard
Dry wipe – Reusable
Materials
Single Use Cheques
Printed on a 160gsm thick paper/lightweight card stock, our single use cheques are ideal for one off large cheques. This is by far the most popular of our giant cheques as it offers a cost effective solution for most clients.
Laminated Cheques
We add a hard wearing laminated coating to the face of your cheque.  This extends the lifespan making it a lot more durable whilst also adding versatility as our special laminate is good for dry wipe markers.
We are still able to roll up the cheque keeping delivery costs down = Great value reusable giant cheques.
Dry-wipe Board Cheques
Mounted to a sturdy PVC Foam board then laminated with our dry wipe laminate this is the best finish giant cheque we offer.
Because of the delivery, time in production and material cost it comes at a premium however if you are looking for a quality finish then this is it.
Reusable / dry wipe / extra durable.
Personalised Wording

FREE OF CHARGE
Ordering your giant cheque is really easy, just fill in the form above.
Perfect for:
Charity presentation cheques
Corporate presentations
Birthday cheques
Promotional Cheques
And more…
We can change any detail to suit your occasion.
Once we receive your order, our in house graphic designers will get to work and prepare your  large cheque for production.
If you have chosen to include your own logo or photo then we will email a draft copy of your custom cheque for you to approve or make any changes.
Your design is then passed to our print department and printed on 160gsm thick paper using our professional wide format printers.
The whole process takes 1-2 weeks depending on how busy we are.
Giant Cheques are posted in a 3″ cardboard tube and posted 2nd class.
We suggest flattening the cheque before use.
URGENT ORDER?
We also offer a rush service if you want to jump the queue and have yours delivered within a week
Gallery –
Personalised Giant Cheques